After registering for BidSpotter.com, navigate to the auction you're interested in and click the Sign up to bid button. Once you've completed the auction registration and been approved by the auctioneer, you can participate within the auction.
How do I place a bid?
There are two ways to place bids in a timed online auction.

Catalog Page (Quick Bidding)

We know how fast things happen in a timed auction, so we've added a bid box for you to place your bids directly from the Catalog Page once approved in a Timed auction. This feature is available in both list and grid views.
For more details on how to use our Quick Bidding feature, please click HERE.
Lot Page

To place a bid on the lot page, you will first need to select the lot by either selecting the lot title in blue, or selecting the image of the lot.
Within the lot you are able to place a bid in the bidding area located to the right of the lot image. To place a bid you will simply enter an amount into the 'Enter your max bid' field and select Place Bid.
Note: The minimum bid you can place is located below the bidding field. In the below example the minimum allowed bid is 400 USD.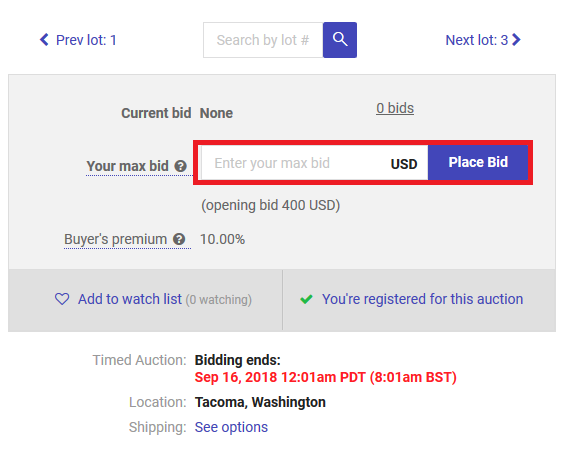 Once you have placed your bid, you will receive a pop-up requesting you to confirm your bid.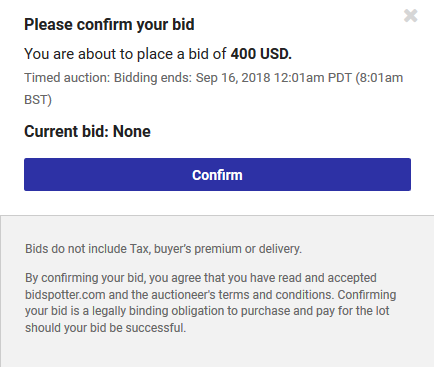 If you are successful in your bid, the display will turn green and inform you of your current bidding status above the lot image as shown below.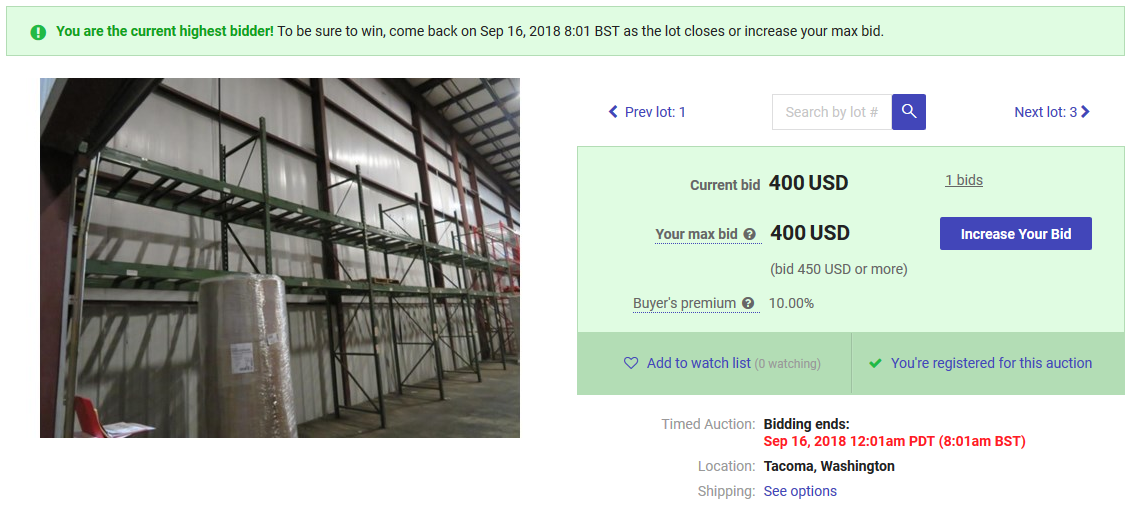 Note: In the event that there is a max bid on this lot that is higher than your bid, you will receive notice that your bid has been accepted, but that you have been outbid.

In the event that you are outbid on a lot, the lot color will change from green to red and the banner stating you are in the lead, will update to You have been outbid.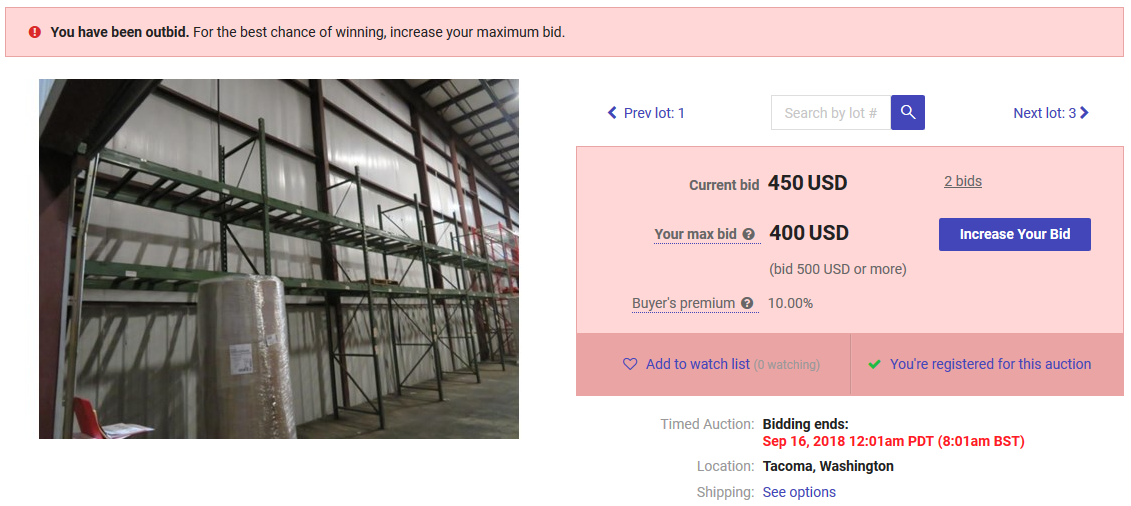 Please note that some lots may have a quantity. Any lot with a quantity will be times the money. Meaning that when you bid $5 on a lot with a quantity of 10, you're really bidding $50.
The quantity will be displayed below the bidding box before bidding. It will display again after placing your bid on the confirmation screen. After the bid is confirmed it will show under the current bid amount.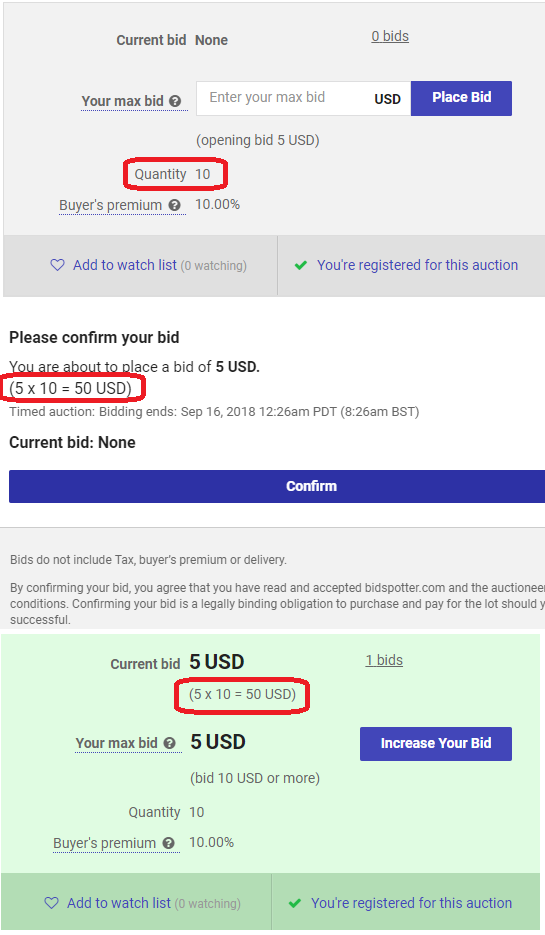 Can I increase or decrease my bid?
You can Increase Your Bid at any time before the lot closes. Simply select the

button and enter the new amount of your bid. Any new bid placed will overwrite your past max bid. If you would like to lower your max bid, simply place a new bid for the new amount. Any amount is accepted as long as it meets the minimum bid requirement. The minimum bid requirement is displayed under Your max bid in parentheses EX: (bid 500 USD or more) has a minimum bid requirement of 500.
How do I know if the lot has a reserve?
If a lot you are bidding on has a reserve set in our system, you will be informed if that reserve is not met upon placement of your bid.

Bidding Increments
If you place a bid that is not an accepted increment, you will receive a notice letting you know that you bid was not accepted and inform you of the accepted increment. EX: If you place a $17 bid in an auction going up in multiples of $5, you will receive the below notice.

Lot End Times
Each lot in a timed auction will be set to a stagger, typically 1 minute. This means that each lot will start ending one after the other by the designated stagger. The stagger times may differ from auction to auction but the default is each lot ending 1 minute after the other.
IMPORTANT NOTE: While each initial end time of a lot is set, this does not guarantee that the lot will end at that time. Each timed auction has an automatic extension, default extension is 10 minutes. This means that if a lot receives a bid within the extension time (EX: Last 10 minutes) then the time will extend back to the extension time.
EX: Lot ending at 12:00 pm. Receives a bid at 11:57 am. End time will extend to 10 minutes making the new ending time 12:07 pm.
Bid Extensions are in place to prevent Bid Sniping. Bid Sniping is when, in a timed auction, a bidder waits until the last second to place a bid. You could have been watching the lot for the last few hours and then they swoop in and win it before you have the chance to react.
We don't think this is fair practice and therefore have Lot Extensions to protect you from this.
Don't forget, just like when you're in an auction room, bidding online is a contractual commitment to buy.
That's why we recommend you find out all you can about an item's condition before you bid. To make it really easy for you, you can talk directly to each auctioneer by using our 'ask a question' link (found to the right of the image on the lot's details page).
If you have placed a maximum bid on a lot by accident, you will need to contact the auctioneer directly to see if they would be willing to remove the bid from the lot.
Need help finding the auctioneers contact information? Click here for more information.
Additional questions on the registration process? Click here.
Additional questions on approval for an auction? Click here.