BidSpotter Auctioneer Marketing Program
The Auctioneer Marketing Program (AMP) is a comprehensive marketing solution for clients looking to promote their businesses. This program offers a range of marketing services, including newsletter promotions and website advertisements, designed to help clients reach a wider audience and increase brand visibility. Through AMP, clients can book effective marketing strategies tailored to their specific needs and goals, ultimately driving more traffic, engagement, and sales.
Auctions supported see:
28% more registrations per auction
42% more registrations from new bidders
10% more bidders per sale
To reserve your advertising today, contact your Client Success Manager directly, or contact Client Services through the following:
Phone: 833-616-7370   |   Email: advertising@bidspotter.com
Web-Based Advertising​ | Email Marketing​ | Newsletter Features​ | Marketing Packages
Web-Based Advertising

​
Advertising on BidSpotter's key landing pages puts your brand in prime placement and in front of more than 300,000 page visits each month.

Email Marketing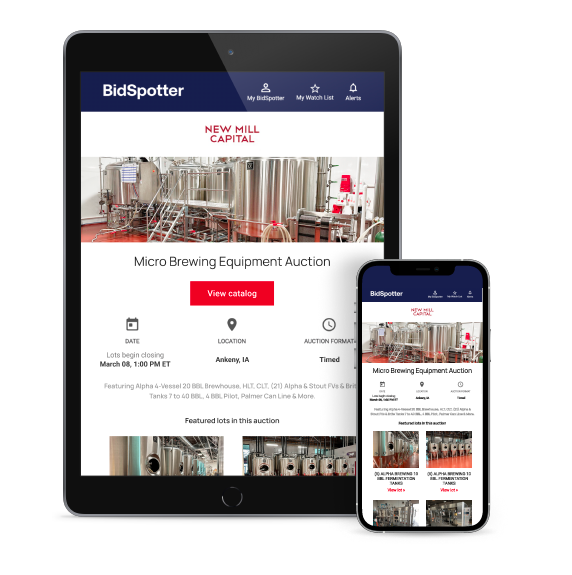 New targeted emails allow you to reach relevant bidders, browsers and watchlisters of all categories across BidSpotter.​
$950 for additional list​

Target bidders based on their preference. Categories are Metalworking, Food & Beverage,

Laboratory & Pharmaceutical, and Industrial & Commercial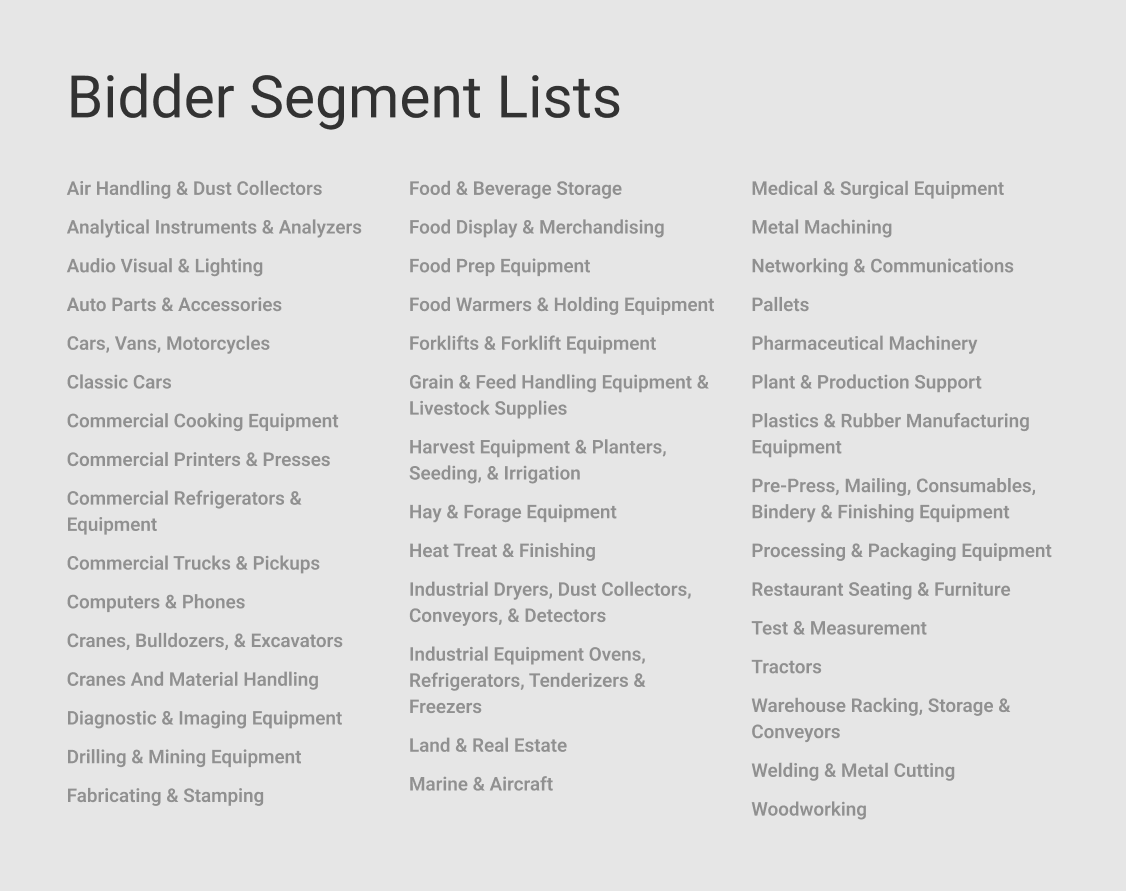 Newsletter Features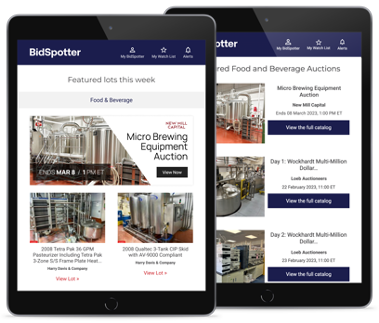 Promote your auction to an audience of opted-in industry professionals, end-users, and equipment dealers. 
Sent Tuesdays & Fridays

Categories available inside Weekly Newsletter are:

Metalworking

Industrial & Commercial

Food & Beverage

Other

Category Newsletter Featured Auction

Metalworking - Weekly Mondays
Heavy Construction - Bi-weekly Tuesday
Food & Beverage - Weekly Wednesday


Industrial & Commercial - Weekly Thursday

Multi-Touch Packages Maximize Reach and Engagement
The real power of digital marketing comes from the adoption of multiple assets to support your sales. Utilizing our email*** products alone will increase registrations, on average, by 29%, but combining them with web assets will increase registrations by an average of 78%.
*Categories: Agricultural equipment, Automotive & vehicles, Computers & electronics, Drilling mining & forestry, Food & beverage equipment, Heavy construction equipment, Industrial & commercial, Laboratory & pharmaceutical equipment, Metalworking, Other industries, Plastics & rubber machinery, Printing equipment, Real estate, and Woodworking
**Asset only available as part of a package purchase
***Email Products refers to a combination of our AMP email and Newsletter features