Many auctioneers have fixed bidding increments. This means there are set amounts you can offer when you place your max bid in a timed or competitive bidding auction.
When placing a bid you will see the Current bid of the lot. Below where you can place your bid it will let you know what the next acceptable bid is.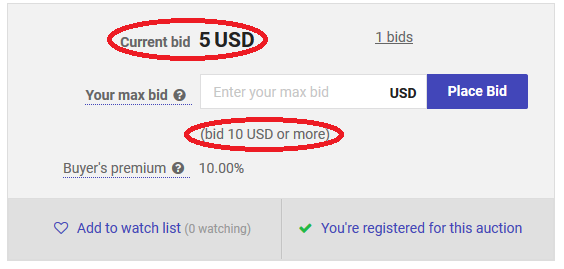 The difference between the current bid and the next acceptable bid is the bid increment. From the example above, the current bid is 5 and the next acceptable bid is 10. This would mean your bid would have to be in an increment of 5. EX: 5, 10, 15, 20, etc.
If you place a bid that is not in an acceptable increment, we will let you know and tell you the accepted amounts. For example, if you place a bid of 13 on a lot with increments of 5, you will be informed that the bid was off increment and told what the acceptable increment is.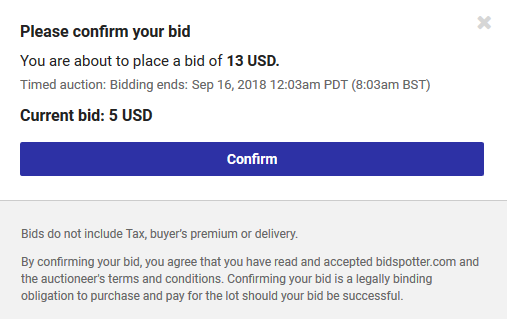 Please note that if a bid is off increment, the bid will not be accepted. 
Here's an example of timed bidding increments:
| | |
| --- | --- |
| Opening bid / Current price    | Bid increment |
| $5 - 50 | $5 |
| $50 - 100 | $10 |
| $100 - 500 | $25 |
| $500 - 1,000 | $50 |
| $1,000 - 5,000 | $100 |
| $5,000 - 25,000 | $250 |
| $25,000 - 100,000 | $500 |
| $100,000 - 250,000 | $1,000 |
| $250,000 - 1,000,000 | $5,000 |