You can see your Leading lots, Outbid lots, and Current lots (Leading & Outbid) for any ongoing Timed auctions you are participating in. To do so, simply select "My Bidspotter" located at the upper right corner of the site. Once there you will see that the My Bispotter page is broken into two sides. On the left you can view your Live auction information. On the right, you can view your timed auction information.
You can view your Leading or Outbids lots separately by selecting "Leading" or "Outbid" respectively. However, I would recommend selecing "View All" to view all of your current bids in a timed auction.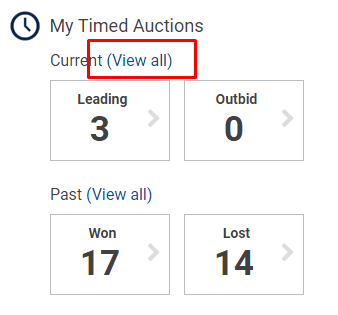 After selecting "View All" you will be met with a list of all you've place active bids on. This page resembles that of an auction catalog. You can view all of the lot information from this page. To see additional information or to adjust your bid, simply click on the title of the lot.