Some auctions allow you to view the auction as a guest. If this is the case, you will see a dark gray Watch auction box located below Sign up to bid. Simply select Watch auction and a pop-up referred to as the Bidding applet or Live applet will open. On the left you will see the lot being offered along with the current and asking price.
For more on live auctions, please click here.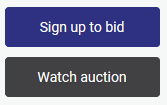 If guest viewing is unavailable, you will not see the Watch auction box. If this is the case, you will be required to select Sign up to bid and complete the registration. Keep in mind that if the auction is ongoing, you may need to contact the auctioneer directly to obtain approval.