To add a new card:
Card information can only be added during the auction registration process. If you would like to add a card please follow the steps listed below.
Sign in
Click on to an upcoming auction
Click 'Sign up to bid'

You're now on the Auction Registration page and you'll see 'My Cards' under 'My registered details'

Click on 'Add card' 
Enter your new billing address (the exact same address associated with your card)
Note: Do not include a business name in the address. Address lines are for street address information only. Adding a business name may result in an error.
Click 'Next'
Enter add your card details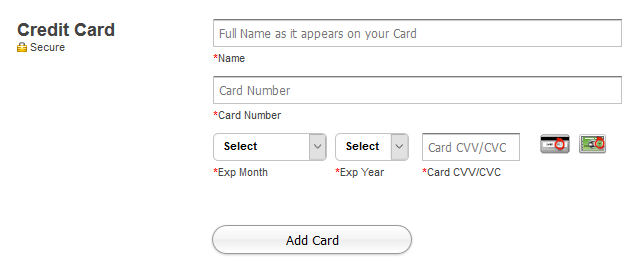 Click 'Add Card'
Here we'll run a quick check to ensure your card is valid

When your card has been added successfully, select 'click here' to return to the auction registration.
If you do not want to register for the auction but simply wanted to update your card information, you can leave the registration and there will be no penalty.
Note: When you change your card on your My Bidder account, this will not update the card you used to register for any current auctions. It will only be available for new auction registrations.
To remove an old card:
Removing an old card can be done in 'My account details'. Simply;
Sign in
Click on 'Hi firstname'
Scroll down to 'My Wallet'

Click on 'Remove a Card'
You'll see the tick boxes appear next to your cards, so tick the one you want to remove


We won't be able to bring these back, so please be careful with your selection. If you do make a mistake, you can add your card again during the auction registration process as shown above.