You can bid at any point during our timed auctions' bidding windows – just look for the start and end time on each auction's webpage.
You just need to tell us the most you're willing to pay, using our set bidding increments and we do the rest.
Don't worry, you don't need to remember these increments; we'll help you when you bid.
Here's an example of timed bidding increments:
| | |
| --- | --- |
| Opening bid / Current price | Bid increment |
| $1 - 50 | $5 |
| $50 - 100 | $10 |
| $100 - 500 | $25 |
| $500 - 1,000 | $50 |
| $1,000 - 5,000 | $100 |
| $5,000 - 25,000 | $250 |
| $25,000 - 100,000 | $500 |
| $100,000 - 250,000 | $1,000 |
| $250,000 - 1,000,000 | $5,000 |
Click here for more information on bidding increments.
You tell us your 'max bid', and we bid intelligently for you, only bidding enough for you to meet the reserve or stay in the lead.
You'll see your 'current bid' when you log in and view the lot (often it will be less than your 'maximum bid').
If someone bids higher than your 'max bid', we'll let you know so you can decide whether to bid more.
When the timed auction ends, the person with the highest bid wins the lot (as long as the reserve's met of course).
To make sure our auctions are always fair and free of 'sniping', if a bid's placed within the extension time set for the auction, the end time will reset. For example, by default the lot extension time is ten minutes. This means that if a bid is placed in the last ten minutes of the lot ending, it will extend the end time to ten minutes.
The lot end time can be any time between 1 and 10 minutes and may vary from auction to auction.
Quantities
Some lots have a quantity. Any lot with a quantity will be times the money. Meaning that when you bid $5 on a lot with a quantity of 10, you're really bidding $50.
The quantity will be displayed below the bidding box before bidding. It will display again after placing your bid on the confirmation screen. After the bid is confirmed it will show under the current bid amount.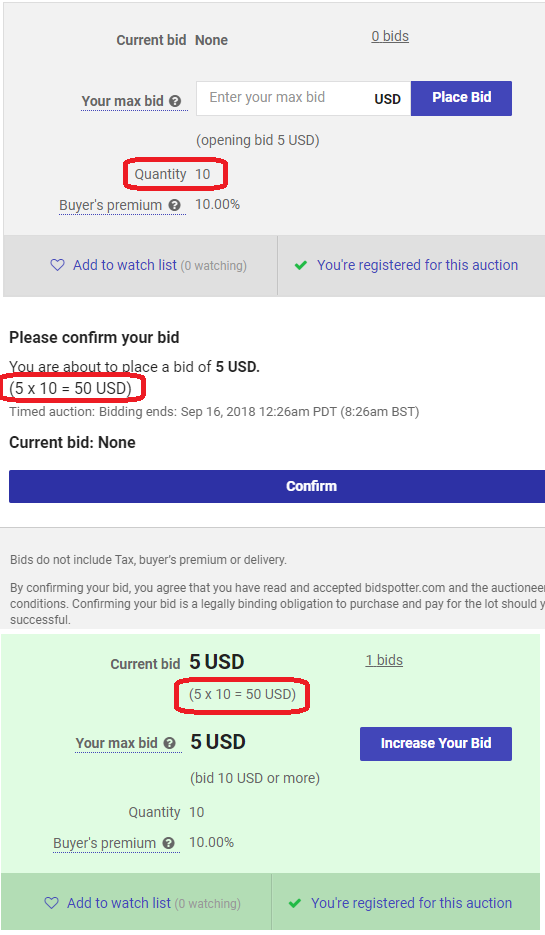 Quick Bidding
If you would prefer to stay on the catalog page to place your bids, you can do so by utilizing Quick Bidding!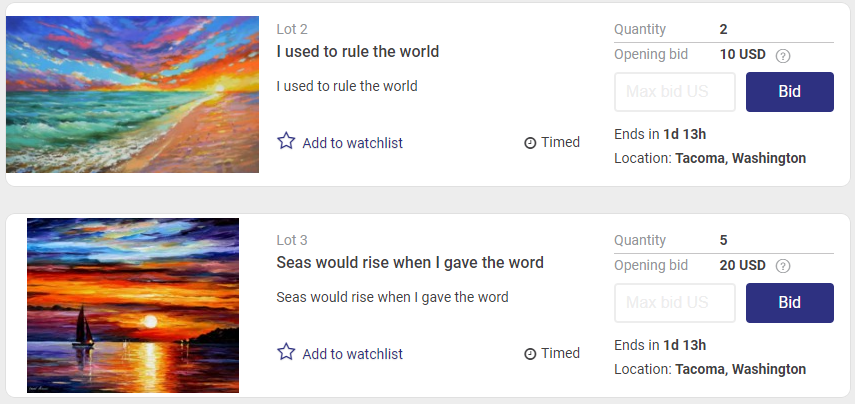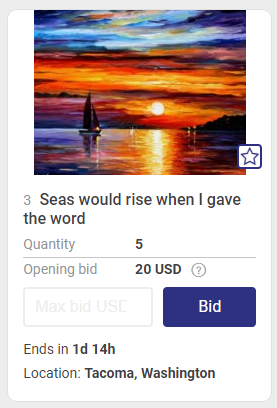 Simply enter your max bid amount to the right of the lot you're bidding on, and click the Bid
button. After inputting your Max Bid amount, you'll see a pop up that asks you to confirm the bid being placed. This gives you the opportunity to read the full lot description and double check your bid amount before placing the bid. For more information on Quick Bidding, click HERE.
Related Article: How do I bid in a timed online auction?